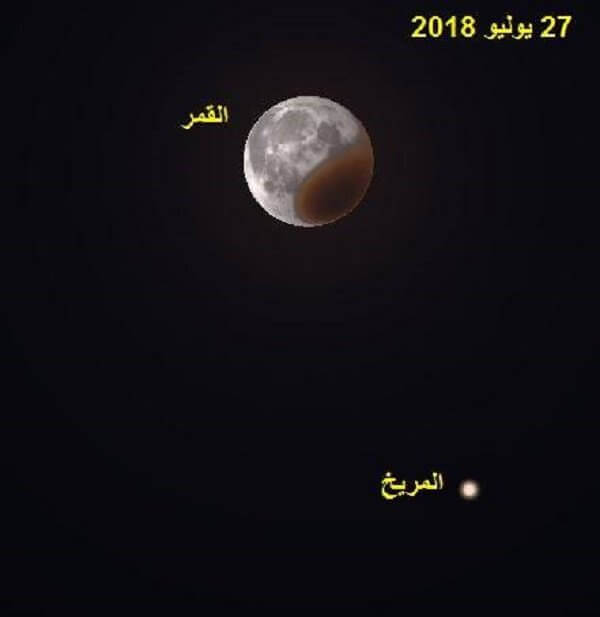 The full second eclipse of the moon during 2018 will be visible in large parts of Australia, Asia, Africa, Europe and South America (and off course will be visible in Egypt and the Middle East). It is the longest total lunar eclipse of the 21st century. It will last for about two hours, or 103 minutes. The eclipse begins at 7:15 pm and reaches its peak at 10:20 pm, and ends at 1:30 am on Saturday July 28. It is often referred to the orange-red glow of the moon during the eclipse, which is the result of the passage of sunlight in the Earth's atmosphere. On this night, the Moon will be at its most distant point in its orbit, so it seems a little smaller in the sky and passes slowly. The lunar eclipse always happens at night and can seen by the naked eye and no fear when staring at the moon disc during the eclipse … Also on this day Mars will be close to the Moon, where it can easily be seen by the naked eye if the weather allows (ie, if the sky is free of clouds and dust). Mars will be shining strongly.
You can follow me on facebook: https://www.facebook.com/altadross
=====================================================
الجمعة 27 يوليو 2018: خسوفا كليا للقمر – اي بعد اسبوعين تماما من كسوف الشمس السابق .. وهو الخسوف الكلي الثاني للقمر خلال عام 2018 وسيكون مرئيًا في أجزاء كبيرة من أستراليا وآسيا وإفريقيا وأوروبا وأمريكا الجنوبية (مرئيا بالطبع في مصر والشرق الاوسط). وهو أطول خسوف كلي للقمر خلال القرن الواحد والعشرين حيث سيستمر كليا لمدة ساعتين إلا ربع تقريبا او 103 دقيقة على وجهة التحديد .. يبدأ الخسوف في السابعة والربع مساءا ويبلغ قمته في العاشرة والثلث مساءا ، وينتهي تماما في الواحدة والنصف من يوم السبت 28 يوليو من نفس تلك الليلة .. وكثيرا ما يطلق على خسوف القمر الكلي (القمر الدم) بسبب التوهج البرتقالي المائل إلى الحمرة الذي يأخذه القمر خلال الخسوف ، وهو ناتج عن مرور اشعة الشمس في الغلاف الجوي الارضي . وفي هذا اليوم ايضا يكون القمر في أبعد نقطة له في مداره حول الأرض ، لذلك يبدو أصغر قليلا في السماء .. مع العلم بأن خسوف القمر يحدث دائما عندما يكون القمر بدرا ، ويحدث ليلا ، ويرى بالعين المجردة ولا خوف عند التحديق في قرص القمر اثناء الخسوف …
ايضا في هذا اليوم يكون كوكب المريخ (الكوكب الاحمر) قريبا من القمر حيث يمكن رؤيته بسهولة بالعين المجردة إذا سمح الطقس بذلك (اي في حالة خلو السماء من السحب والغبار) علما بان المريخ في هذه الفترة يكون في وضع التقابل مع الشمس بالنسبة للأرض لذلك فهو يلمع بقوة.