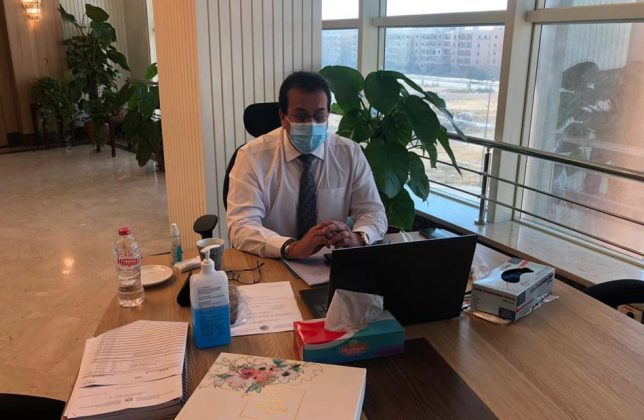 Sunday, January 10, 2021.
prof. Dr. Khaled Abdel Ghaffar, The Minister of Higher Education and Scientific Research, chaired this morning the Board of Directors of the National Research Institute of Astronomy and Geophysics (NRIAG), in the presence of Dr. Yasser Rifat, Deputy Minister for Scientific Research Affairs, and Dr. Mahmoud Sakr, the president of the Academy of Scientific Research and Technology, and Dr. Walid Al-Zawawi, Secretary of the Supreme Council of Research Centers, Institutes and Authorities, and Dr. Gad El-Qady, head of the institute (NRIAG), and members of the council, through videoconferencing.
At the beginning of the meeting, the council mourned with great sadness Dr. Ahmed Badawy, head of the seismology department at the institute, praying to God Almighty to provide him with the fullness of his mercy, to dwell in his spaciousness, and to bless his family with patience and solace.
During the meeting, the minister asked to develop a specific plan for the institute that can be measured and evaluated during the year 2021, to be presented to the next council, including the current position of the institute, its future plan, and its evaluation criteria.
The council approved the executive regulations of the Kattameya Center for Scientific Excellence in Astronomy and Space Sciences. The council also approved the promotion of a number of researchers at the institute to the rank of research professor in a number of scientific departments at the institute, as well as the approval of appointing a researcher in the institute.
The Council was informed of the allocation of a plot of land in the Abu Simbel area for the institute to be used as expansions for the magnetic observatory in the region, and the proposed activities for its investment in cooperation with a number of stakeholders. For his part, Dr. El-Qady has given a quarterly report on the activities and events of the institute at the level of scientific facilities and equipment and research projects, whether done or ongoing, as well as the scientific performance of the institute, indicating that the number of published research has reached 125 research in Scopus databases, of which 43% are in the field of land in addition to scientific disciplines. The other, as well as an increase in the research published in Q1, and an increase in citation indicators, in addition to the opening of the institute's satellite and space debris monitoring station last month.