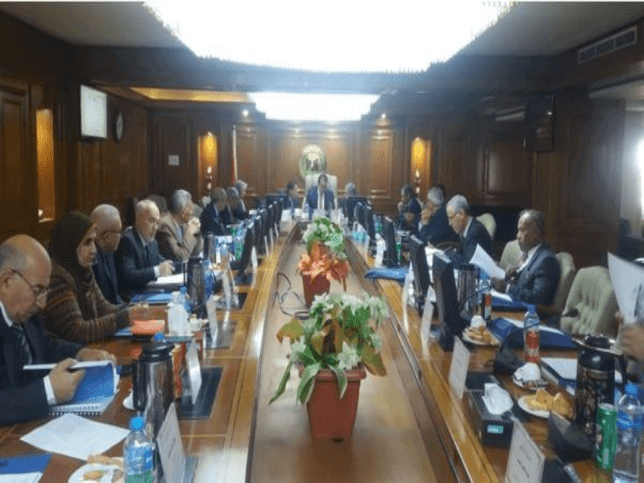 Prof. Dr. Khaled Abdelghaffar, the minister of higher education and scientific research heads the meeting of the board of the National Research Institute of Astronomy and Geophysics (NRIAG).
The meeting was held on Sunday, 29th October with Prof. Dr. Gad El-Qady the president of NRIAG and the board members at the Ministry premises.
At the beginning of the meeting, the members have congratulated Prof. Abdelghaffar for renewing the confidence from the political leadership to him.
The minister confirmed the importance of collaboration between NRIAG and the child University, in the form of scientific trips and participating NRIAG in the child university programs.
Throughout the meeting, Prof. El-Qady has portrayed a report about the significant activities done by NRIAG over the second half of 2019, such as workshops, conferences, symposiums, lectures, national and international agreements. In addition, NRIAG has presented several training courses for various Egyptian university students and staff of different ministries such as the ministry of antiquities.
A study about the project of the Egyptian Larg Astronomy observatory has also been discussed, which is considered the launch of the biggest city of Astronomy sciences and space discovery in the Middle East. It definitely will enhance the Egyptian role in both national and international levels for those fields. This project can contribute to transferring those technologies to the field of optics, electronics, and control devices. Moreover, it supports the Egyptian leadership of establishing the Egyptian agency of Astronomy.
During the meeting, Dr. Ashraf Alqotb, the head of the intellectual property committee (PI) at NRIAG, has introduced a perspective about PI and how it is applied in/from the different scientific institutions.
The board has accepted the collaboration scientific protocol between NRIAG and the faculty of maritime sciences and Astronomy technology at Beni Suef University. Besides, the board accepted another protocol between NRIAG and Sohag University.
Finally, several related subjects to the teaching staff members regarding the preferments, assignments, and scientific committees have been discussed.